The grass may always be greener on the other side, but some places are simply more rewarding than others when it comes to markers like the hours in the work day, average annual leave and the world happiness index scores.
Looking beyond the domestic market
A pan-European study by ADP of just under 10,000 working adults reveals how employees feel about the future of work, international competitiveness and talent management. Three in four surveyed European residents have a strong appetite for international work. 
Germany, United Kingdom and France top the list of the most desirable destinations to work in, while the US and Canada surprisingly come much further down the list for Europeans, according to that study. 
Perception wins out over facts
Despite the popularity of the top three countries, Germany, the UK and France aren't particularly strong in any of the areas for opportunity measured in the survey, such as skills and development, flexible working options and stress in the workplace.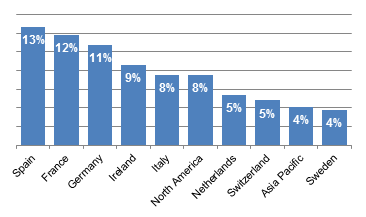 In fact, according to the research, employees could have a more balanced life and interesting opportunities in countries that don't currently rank at the top. Instead, pre-existing perceptions of the country, economic stability, distance from home country, and language skills seem to be more likely to affect preferences.
UK workers more insular
In the UK, 42 per cent of employees would never consider working abroad. Significantly, there is also a clear difference of opinion between genders in the UK, with 33 per cent of men and half of all women saying they would not consider working abroad.
Workers from Northern Ireland are the most likely to seek international work (91 per cent), followed by Londoners (77 per cent), while over half (55 per cent) of those from the North East aren't interested in it at all.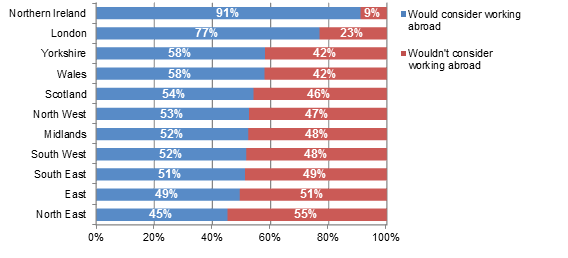 "It is evident that Europeans have an appetite for international work. With the war for talent and broadening skills gaps being key challenges across the continent, it is essential businesses and governments work to ensure a more international workforce can be accommodated and its benefits understood and appreciated by the endemic population," Jeff Phipps, managing director at ADP UK.
"Encouraging cross-border movement of talent, whilst employing people from diverse backgrounds, is crucial for ensuring global competitiveness by accessing critical skills. Integrating that diversity into the workforce is important and can, if done well, form an additional means of stimulating engagement."
A separate study benchmarking benefits and work-life balance against happiness metrics reveals a very different picture.
The infographic below accounts various national data and statistics including wages, working hours, sick leave and the United Nations world happiness index.
Spoiler alert: the UK is ninth on the list. 

Related Topics