The Business Growth Fund has made return investments involving Mexican fast food chain Barburrito and budget gym group Xercise4Less.
As two of the first 30 businesses that were backed by the bank-backed Business Growth Fund (BGF), Barburrito and Xercise4Less are now hoping to further ramp up growth.
Both companies are using new equity funding to build on a programme which is broadly based on site roll-out.
Mexican food chain Barburrito has secured a further £3.6 million to go with the £2.5 million it netted in April 2012. Back then the business had six sites in cities such as Leeds and Manchester, but has since then gone on to take its store count to 11 and into the London market.
According to figures from Barburrito, the company's turnover has doubled in the last 12 months alongside a net sales run rate in excess of £8 million.
Morgan Davies, managing director and co-founder of Barburrito, comments, 'We started this great burrito race in the UK and as I have always said, this is more than a business, it's a passion.
'The further funding provided by BGF is a great step forward for our business. It offers us a vote of confidence and most importantly, the funds with which to continue to take the business forward.'
As part of the £3.6 million top up, former Tragus Group CEO Graham Turner is taking up the role of non-executive chairman at Barburrito.
More on recent Business Growth Fund deals:
Fellow BGF portfolio company Xercise4Less, set up by former rugby league player Jon Wright is receiving an additional £2 million. The business was first backed more recently than Barburrito when, in August 2013, it was part of a £5 million deal. That transaction was closed to enable the North of England-based gym business to fund the roll out of 100 new locations in the next five years.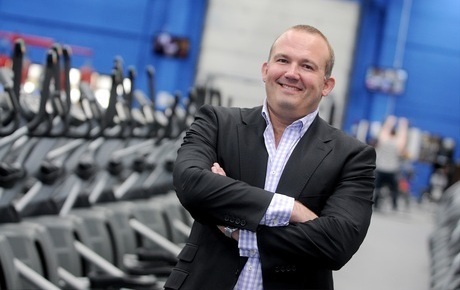 Jon Wright has built his company on the basis of cheaper access to gyms
At that point, the gym company had signed agreements with 14 new locations in Yorkshire, the North East and South West – mostly in large out-of-town sites. Xercise4Less has gone on to secure 11 of those sites, meaning it now has 29 gyms.
The BGF, which is supported by high street banks including Barclays, HSBC, Lloyds, RBS and Standard Chartered, says that it will continue to hold only a minority stake in each company.
Having begun investing at the end of 2011, the BGF has now added 53 companies from 18 sectors to its portfolio through deals totalling over £300 million.
John Swarbrick, head of portfolio at BGF, adds, 'We are an investor of just three years standing and the minority of our investments are still less than 18 months old.
'However, we are already seeing many encouraging signs of growth across the portfolio of companies that we have backed. This sort of sustained growth often requires the provision of further funding and the ability to provide this forms a critical element of BGF's offer.'