ACS Clothing is planning to build out its Xedo software service after taking on investment backing.
The business was set up in Glasgow in 1997 to provide formal wear – before expanding into highland clothing and then evening wear. ACS Clothing has exclusive agreements with companies including Austin Reed and Burton and processed 400,000 UK orders in 2013.
Founder Richard Freedman then set up Xedo Software to provide digital products aimed at the hire and wedding industries. Xedo provides customers with retail order management that connects ACS Clothing customers and users of the software to inventory.
The Business Growth Fund (BGF), which is supported by £2.5 billion of high street bank funding, is leading the investment.
Freedman, CEO of ACS Clothing and Xedo Software, comments, 'A major investment in our e-commerce capabilities and processing software is the quickest way to expand our business but we will also be exploring new international business opportunities and partnerships.'
The prospect of external equity investment scared Freeman, he admits, but was convinced by meeting BGF partner Simon Munro through the EY Entrepreneur of the Year Awards.
'I was suitably inspired by the BGF story, recognised that their approach was quite different from other equity houses, believed that Simon could add value to our business, made the simple call to find out more and within a matter of months, here we are,' he adds.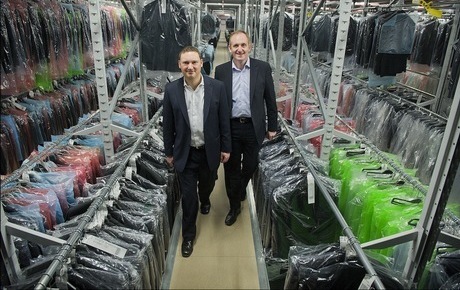 ACS recently moved to a new 190,000 sq ft purpose built facility outside Glasgow
ACS Clothing will be using part of the investment to expand Xedo's SortMyWeddingOutfit website – a location for all members of a bridal party to sort each aspect of a wedding day regardless of location.
As part of the deal, Munro will take up a position on the board and lead the recruitment of a new external chairman. The investment is the BGF's ninth in Scotland since the firm began its operations in 2011. Other Scottish businesses in the firm's portfolio include optical chain Duncan & Todd, fancy dress and party fashion company AFG Media and luxury toiletries brand Arran Aromatics.
Munro, BGF's regional director for Scotland, says, 'Our team has not only been impressed with ACS' high-tech and efficient operations but also with the scale of the business opportunity.
'The total global wedding industry is estimated at $320 billion per annum, excluding honeymoon, wedding gifts and spend by guests. The average cost of a UK wedding is £18,000. There is plenty to go after.'
Read up on our exclusive Business Growth Fund roundtable: