Oxford University spin-out NaturalMotion is now under the ownership of San Francisco-based Zynga.
Led by CEO and co-founder Torsten Reil, NaturalMotion was set up in 2001 and produces well-known games including CSR Racing and Clumsy Ninja.
To coincide with the acquisition, Zynga is planning to cut 15 per cent of its global workforce in an effort to save $33-$35 million pre-tax for 2014. Zynga also reported a loss of $25 million for the fourth quarter of 2014, as monthly unique players fell from 2.9 million from the same period in 2012 to 1.3 million.
Zynga's workforce reduction will approximately 314 employees lost
Don Mattick, CEO of Zynga, comments, 'Our acquisition of NaturalMotion will allow us to significantly expand our creative pipeline, accelerate our mobile growth and bring next-generation technology and tools to Zynga that we believe will fast track our ability to deliver more hit games.'
NaturalMotion's last funding round came back in June 2012 when a Series B transaction was led by Silicon Valley venture capital firm Benchmark Capital. The £7 million investment for the Oxford-headquartered technology business financed the opening of an office in San Francisco – where it then sat alongside the likes of Zynga, GREE and DeNA as social gaming ventures. NaturalMotion is also backed by UK investor Balderton Capital.
According to a statement from Zynga, NaturalMotion is said to provide 'cutting edge technology and tools' and a way for the American business to accelerate mobile growth.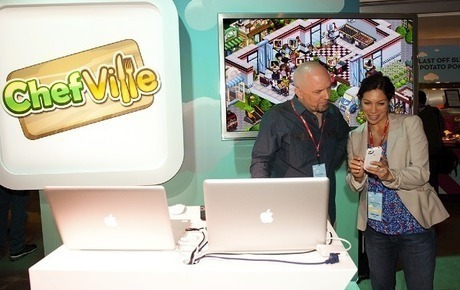 Amongst Zynga's offering is ChefVille – where users create a dream restaurant
NaturalMotion CEO and co-founder Torsten Reil says that when he began talking with Don he realised Zynga shared his vision of 'being obsessed with quality, disrupting and creating genres' and 'using almost magical technology'.
'Don's background in AAA [widely marketed] games and Zynga's expertise in social game play and large-scale game operations will be invaluable to helping us grow our existing CSR and Clumsy Ninja franchises and maximise the breakout potential of our upcoming titles,' Reil adds.
'We've reached our first milestones – creating number 1 top-grossing and top-free titles – on our own. We can't wait to see what we can achieve together with Zynga.'
The structure of the acquisition sees Zynga pay £238 million in cash for NaturalMotion, with the remaining £21 million satisfied through shares.
Mattick says, 'Our market is growing as measured by device, audience and dollars and we have the privilege to compete in one of the fastest growing parts of the entertainment industry.
'We have an ambitious agenda and we are moving quickly to add capabilities that are complementary and strategic to our core growth plans.'