"We've fused hospitality services with an estate agency within the sharing economy," says Guy Westlake, outlining what makes his start-up inherently unique. "There's nothing in the market like it right now, but the demand is there, and is only set to grow."
Westlake's business, Lavanda, pioneers a new nexus of services yet to be explored within the sharing economy; that of asset management based on quality service as that cherry-on-top 'value-add'.
"We see ourselves as an asset manager, providing an intelligent solution in managing costs for property owners. Ultimately, people are willing to pay more for better quality of service," he explains.
But what does Lavanda do?
Westlake says it's a mixed bag of hospitality services, from providing short-term guests and long-term tenants with the hotel experience, to managing the upkeep and logistics of the rental process for property owners. The company's new service let model boasts a 10 per cent increase in net rental yields returns, as a way of regulating the otherwise unpredictable subletting market.
"We service owner occupiers with a fully managed home-sharing service. That's our bread-and-butter. On top of that, we've launched a fully managed long-term tenancy service, like estate agents. But we've also introduced the service let, which attract tenants for short-term stay in properties where the occupiers are away on holiday or business travel," Westlake adds.
The company also offers the hotel style experience to longer-term tenants as an opt-in service. Should they choose to opt-in, Lavanda shares a percentage of that revenue with the property owners as well.
An early pivot
Lavanda started as a laundry app in November 2014, but Westlake quickly realised that the industry wasn't right for them. "There's huge demand for laundry services, but the cost of scaling is prohibitive. Plus, you're being benchmarked against the washing machine. We realised early on that there were deep problems that needed addressing," Westlake says. "Laundry is still part of what we do, but we've grown to be a full hospitality service. We can create value through hospitality in residential properties through the sharing economy. It's the hospitality that creates value through the nice little touches people expect from a premium experience; the fresh, clean linens and the seamless wifi. People are willing to pay more for a better experience."
With the laundry app idea, Westlake believes the company built too much technology too quickly, a mistake he believes helped him better pace the business in its new form. "In a way, a lot of that technology was wasted. But we learned a lot from it, even if we didn't use the tech. With this model, we knew exactly what to build when the time came. We have managed enough properties and faced enough problems to know what we need."
Lavanda manages just over 150 properties at present, with a mixture of owners; owner-occupiers who rent out their property when on holiday, those with holiday homes that are available for rent most of the time, and landlords with residential property portfolios, the largest demographic. These customers want the security of guaranteed income, which they can now have through the sharing economy, according to Westlake, as long as it's managed well.
The end of the estate agent-led era
By Westlake's estimation, estate agents may have missed the boat in service-led property management, particularly in the rapidly evolving home-sharing market. "Young buyers are struggling to get on to the property ownership ladder, which is why home-sharing is so popular in London. There's also 'Generation Rent', as they're called, where many people are stuck renting property because of increasing house prices. Home-sharing makes sense, but it's really, really hard work. It's a full time job!"
The ideal place and time for this business model is London now, Westlake explains. The trend specifically on platforms like Airbnb is that the more properties enter the market, the more it drives the price down. The way to keep those values up is to keep the service up, he says. "Traditional estate agents are facing an existential threat. they're not perceived to create value. The returns the average estate agent delivers to their property owners are defined by the market, but ours is defined by the market and our service. This is where estate agents lose out."
"There is so much demand for this at a social level, we can't carry on as the estate agents are doing. There's huge value in this, not just for landlords but for tenants. It creates a more flexible rental situation to help them monetise properties in a safe and secure way."
According to Westlake, the demand for property management is high, but the industry is not professionalised, which is what causes problems. "You see the headlines about houses getting wrecked by short-term guests, but it's always from people who haven't vetted their guests properly. They haven't checked IDs, or haven't done all the things a professional management company would do. They are the massive minority, but these cases are assumed to be the norm because they get the most press attention."
Driven by data
Ultimately, Lavanda is a technology-driven business, says Westlake. Sitting in a central location, the team can diagnose problems and remedy them remotely, facilitated by data rich technology.
"Our business is largely based on data, whether it's pricing data or deep inventories of our properties. For example, details such as the make and model of our pipes and taps are all in the system, so if things go wrong with the plumbing, we can diagnose it without having to send people out. Having all this data helps us if we do have to go in person to fix anything. We know the exact parts to pick up on the way. This depth of data is so valuable in the long term. It's key to having an efficient yield proposition," Westlake says.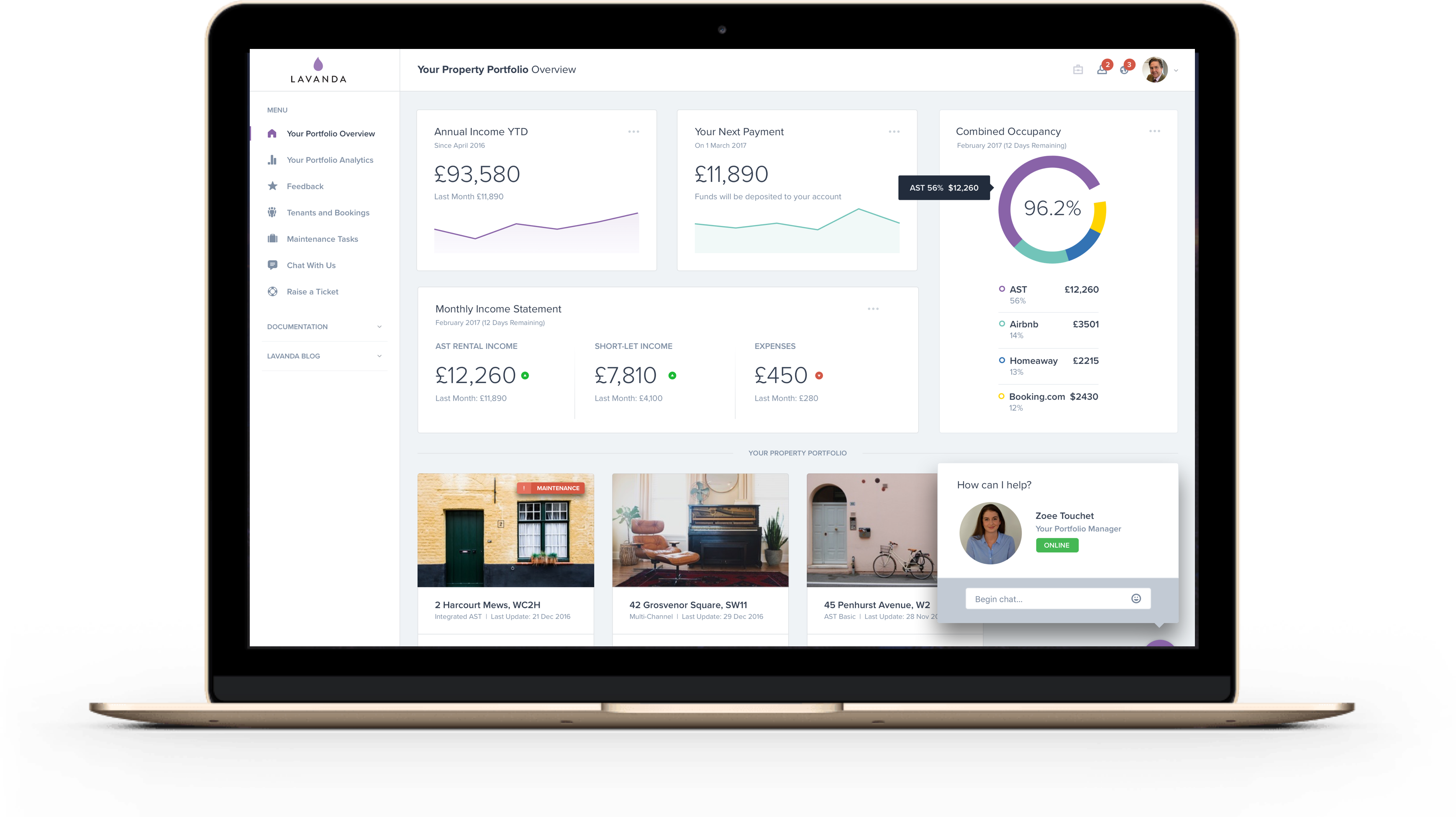 His vision for the future is to be able to drop a pin anywhere on the map of London, and with just the postcode and size and format of the property, be able to accurately estimate what the property is worth in the short-term, long-term, and anywhere in between.
"That's our holy grail, which we're building now. The only thing dictating property values for tenancy is the condition it's in and the time period it's available for. That's a pure data exercise."
Lavanda also uses intelligent pricing to figure out the management costs for different properties on different channels. "We make sure we have the balance right. We're present across all channels. For example, Airbnb as a channel is very price sensitive because most people use the platform to find the cheapest deals. Booking.com, on the other hand, is geared for hotels. People are used to booking at higher price points on Booking.com, and they also expect a different level of service from their experience. It's very important to be exposed across a number of channels. That's why we see ourselves as asset managers. We have properties that earn £180 a night on Airbnb that would be priced at £380 a night on Booking.com, but both platforms have a very different fee structure, too.
"As an added check-and-balance, we're kept honest with reviews to make sure we're not pricing them out," he adds.
Backed by investors
Lavanda has held two investments rounds to date; one small SEIS round for £150,000 from entrepreneur friends and angel investors, and more recently, a £1.3 million investment to take the business to the next stage. This round was led by a private investment club backed by FTSE100 directors and angel investors.
"This is to take the business from fledgling concept to a more established model. We'll be investing in the technology with the view to grow our property base to critical mass," Westlake says.
Looking back, Westlake explains why he kept the name Lavanda for the new iteration of the business. "Lavanda means 'for the purpose of cleaning' in Latin. And we still do just that. We make properties beautiful, and we hang our hats on the quality of our housekeeping and our linen. We're not an Airbnb derivative, and we're not letting agents per se, so it goes back to our values."