With the UK triggering Article 50 and the increasingly tense state of UK-EU negotiations, the technology sector is facing an uncertain future. The sector has the most mobile workforce, according to the latest figures 43 per cent of employees in European technology businesses are not citizens of the country where the company is headquartered, and in London, 40 per cent of companies have at least one founder from overseas. Start-up entrepreneurs will often migrate to countries where they feel their companies have the best opportunities to flourish and thrive, so what does this mean for UK's competitive advantage?
A recent report from Tech City found the tech sector is growing twice as fast as the wider UK economy and that digital jobs are being created twice as fast as non-digital jobs. Holding back the growth and momentum of the tech industry could potentially damage the entire UK economy, which makes it more than just a sector-wide problem.
According to figures from global recruitment platform, Hired.com, the UK tech industry faces such a steep skills shortage that UK-based companies offer foreign candidates an average of 28 per cent more than local candidates in order to fill their open roles.
But data before and after the EU referendum reveals that the percentage of British companies sending offers to candidates outside the country fell from 25 per cent at the beginning of 2016 to just 18 per cent a year later, a decrease of almost 30 per cent.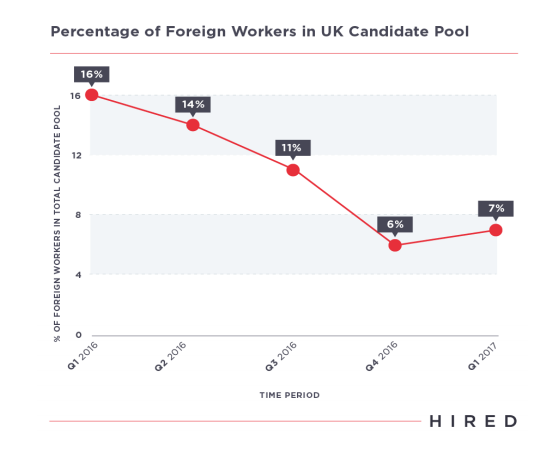 For Hired CEO, Mehul Patel, the shrinking pool of UK companies that are recruiting foreign talent is one indication of Brexit's impact on tech hiring. "Another metric is the representation of foreign candidates in the total talent pool, which we found has also significantly decreased. In fact, the number of offers given to foreign candidates has gone down by 60 per cent since Brexit," he explains.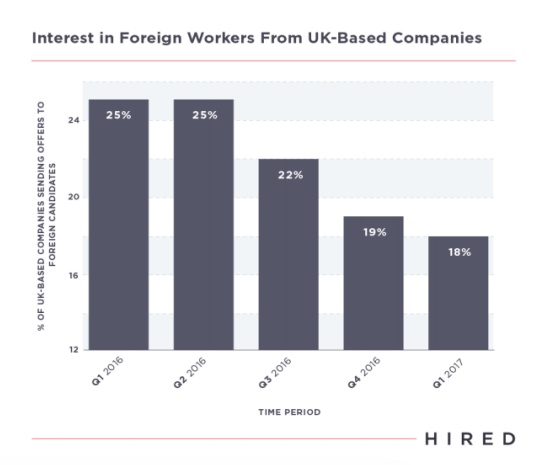 70 per cent of UK tech workers surveyed by Hired.com have considered leaving Britain altogether in the wake of Brexit, Patel adds. The majority of them plan to move to other European cities, though North America and Australia also scored high as potential relocation destinations.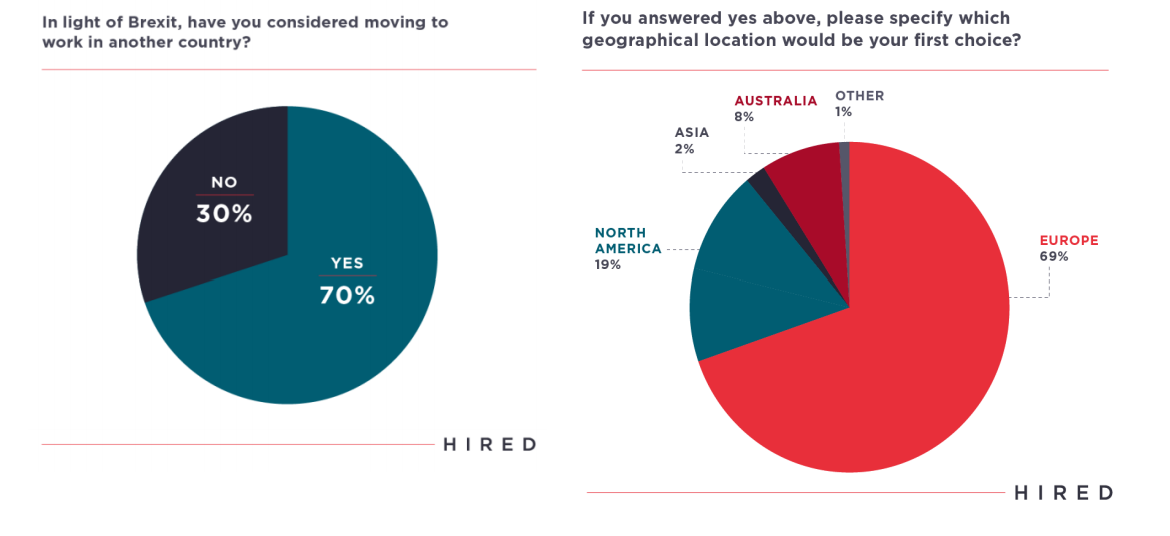 With the air of disillusionment and uncertainty settling heavily over London post-Brexit, is the dream of European Silicon Valley collective a thing of the past?
"The biggest challenge for Europe is to create a digital single market with unique rules to help European companies to grow quickly, and to stand strong with peer competition from Silicon Valley tech giants," says Gianpiero Lotito, CEO and co-founder of Italian tech firm, FacilityLive and a founding member of the European Tech Alliance.
After recently speaking at the European Business Summit on developing an industrial strategy for the continent, Lotito spoke with GrowthBusiness on UK's place in this brave new world.
His 'united we stand' approach to the European tech sector stems from his involvement with the European Commission on its Digital Single Market plans, and as the founder of a European business that plans to continue investing in the UK after Brexit.
"Apart from establishing a strong digital single market, another main challenge is how to attract capital. There is a lot of capital available in Europe, and there's a lot of scope to build better relationships between investments and the growth of companies. In many cases, the final goal for entrepreneurs is an exit, but in this way, you can't built a next generation tech industry in Europe, which we need."
On the morning of the referendum, Lotito was interviewed by the media to hear his thoughts on life after Brexit for both sides of the UK-EU divide. Now, close to a year after the event that shook a continent, if not the world, he reconciles that Brexit is a fact we cannot avoid. "I'm a strong European believer, but Brexit can be an opportunity for the UK to attract high tech companies outside the union, and its also an opportunity for European start-ups," he says.
"I don't think the UK can truly be out of the single market. It will be connected in a different way. The entrepreneurial choice to be in one country or another is not a main fact. For example, our choice to be in 44 countries is purely strategic. Local champions can become global. We strongly believe it's possible and necessary to build a European tech ecosystem."
Of the three main challenges for Europe going forward, Lotito believes the third is for European digital champion companies to build traction in creating a Silicon Valley-type environment of innovation. "The digital ecosystem can be replicated in many cases, but we cannot apply a copy-and-paste model of what works in Silicon Valley. We need a European model," he explains.
Stressing on the fact that European capital is available in abundance, Lotito believes that what's missing is a robust platform to connect available capital and the start-ups that need growth finance. "Additionally, foreign investment can boost the digital environment in Europe, but with the condition that it provides capital to develop European companies and grow European tech."