Unless you have been avoiding all social media and been comfortably living under a rock over the last few months, social discussions have firmly placed scrutiny on gender equality in some of the biggest industries.
From Harvey Weinstein and Kevin Spacey, to Carrie Grace's row with the BBC, never before has the spotlight been turned so brightly on businesses who neglect to improve the opportunities for women and close the gap to make things equal.
The Golden Globes was, probably unsurprisingly, a hot topic on social media for this reason. Overall, the awards show drew 3.3 million tweets, beginning Sunday and carrying through into the early hours of Monday morning. The evening was dominated by women calling for an end to sexual harassment in their acceptance speeches, with the most notable trend or hashtag of the night not focussed on the achievements of Hollywood, but instead a movement— #TimesUp.
Signifying solidarity and support in all black attire, Hollywood's best and biggest names shifted the focus from movies and TV onto the disparity between Men and Women.
A powerful group of 300 women in Hollywood (including Eva Longoria and Reese Witherspoon) started the the #TimesUp movement as a way to support women all across the country, in all fields, who have experienced harassment, discrimination or abuse.
Buzz began to build around the movement leading up to the awards as actresses from Natalie Portman to Viola Davis began to post about it on Instagram and Twitter. By Sunday night, #TimesUp had really taken off.
Analysis of the nights twitterings from The Golden Globes found that while a lot of people were talking about the awards themselves, the #TimesUp campaign was tweeted about roughly 473,900 times. Another 178,500 tweets mentioned #WhyIWearBlack, while 174,300 mentioned the #MeToo movement.
If you have payed attention to the news, many of you will have seen Oprah Winfrey's powerful acceptance speech for winning the Cecil B DeMille award (an award no black woman has ever won), calling out to all the brave women who have stood up and spoken out about the injustice of sexual harassment that, "…when that new day finally dawns, it will be because of a lot of magnificent women, many of whom are right here in this room tonight, and some pretty phenomenal men, fighting hard to make sure that they become the leaders who take us to the time when nobody ever has to say 'me too' again. Thank you."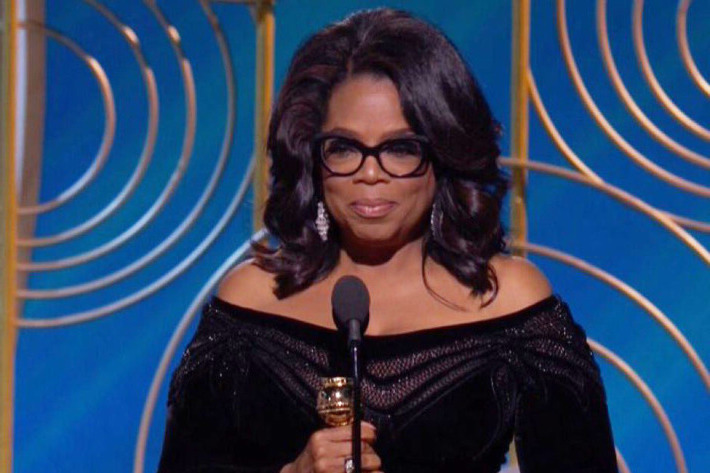 #TIMESUP – Oprah Winfreys Golden Globes speech started a social media revolution.[/caption]
The speech was powerful, not only because of the globally beloved orator delivering it, but because it galvanises a movement that transcends all cultures, races and industries and it is about time that the world gets with the programme.
"Each of us in this room are celebrated because of the stories that we tell. And this year we became the story. But it's not just a story affecting the entertainment industry. It's one that transcends any culture, geography, race, religion, politics, or workplace.
"So I want tonight to express gratitude to all the women who have endured years of abuse and assault because they, like my mother, had children to feed and bills to pay and dreams to pursue."
Gender inequality is no longer a myth that can be explained away or excused; the paradigm shift towards an equal society is not a novel or new idea, and every one of us, business or no, is responsible for reaching this goal.
Some of the biggest businesses have fallen victim to this – following the BBC being accused of censorship for barring presenters expressing their support for equal pay from covering the Carrie Gracie story, Leon Deakin, partner and head of employment at law firm Coffin Mew, comments, "Most employers do not operate in the media or have the same impartiality rules as the BBC, but this 'censorship' development in the Carrie Gracie story is a warning to businesses on how best to respond when faced with concerns raised by staff.
"Aside from the internal and external reputational damage employers could sustain if they are perceived to be trying to silence staff or in some way manipulate the narrative, such behaviour can itself be the cause of the action.
"This is the case even if the underlying issue (i.e. the alleged disparity in treatment due to gender) is not actionable. Employees have specific protections from being penalised or subjected to any form of detriment for whistleblowing, asserting a statutory right and in certain circumstances can bring claims of victimisation. As such, the wisest approach is often to deal with (and be seen to deal with) such concerns through the proper channels, which generally will be a full grievance process."
While Hollywood's actresses wearing black for #TimesUp at the Golden Globes Award Ceremony is an important statement against sexual harassment and unequal pay, for society to truly tackle discrimination in the workplace, a bottom-up approach is desperately required.
A National Academy of Sciences research paper shows that managers are twice as likely to recruit men over women, and companies must start taking tangible steps against this reality.
Ben Reuveni, CEO of Workey, believes arming women with better information of the marketplace combined with a shift towards anonymous recruitment are the fundamental tools in tackling workplace discrimination.
"Through advanced AI comparisons of the job market, women can ascertain what remuneration they should be demanding for their role, while an anonymous recruitment approach will remove gender bias from the hiring process."