Contentment has developed a range of tools for publishers, from print bundling to in-app purchases, and features in the 2014 GrowthBusiness Tech Innovators feature.
Growing rapidly, and now looking to close a new investment round, Contenment is part of a new breed of technology media company.
Based in: London

Founded in: 2011

No. of employees: 14

Company founder: Michael Kowalski
Founder profile:
Michael Kowalski has over 15 years experience designing and developing editorial systems for media and publishing organisations including The Guardian, Newscorp, and London 2012. He frequently speaks at publishing industry events, including the CMA Breakfast Briefing, PPA Reinvented conference and was international judge for FIPP's Media Hackday in Berlin this March.
Background business profile:
Contentment connects people with the content they love – on any device. Its cloud-hosted platform makes it simple to sync content from anywhere, remix it into beautiful interactive apps, and publish them to iOS, Android and web. Additional features include print bundling, data capture, and per-page in-app purchase.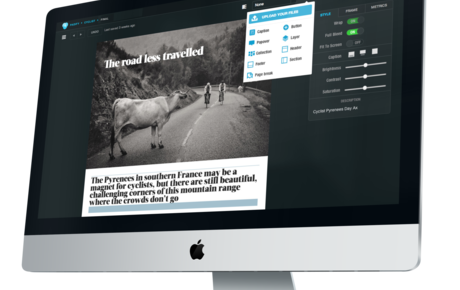 Inside track:
Contentment founder Michael Kowalski was at the Guardian Media Group when it was launching its first range of websites, where he designed all of the editorial systems. Since then he has gone on to work for News Corporation and build the websites for the London 2010 Summer Olympics, before deciding that publishers didn't have the right tools to deal with mobile devices.
Explaining how some publishers have attempted to embrace mobile and devices, he says that for most in was a case of taking a print solution and trying to do mobile with it. That involved laying out every page for every device that was being targeted, ok if it is just a case of iOS, but not for others.
With mobile where growth is really being driven, a dedicated and flexible offering is required by publishers. Contentment, with its team of 14, are targeting publishers that are naturally resource squeezed but open to looking at something different.
'The big obstacles are that it is platform sales, a tough decision, so takes a while for people to go for,' he explains.
'One of ways we are hoping to expand our addressable market is to look at more a self-service offering – targeting smaller publishers. Our aim overall is to build more revenue streams.'
At the outset Kowalski made sure he went out to do some solid customer discovery, based on the fact that publishing has many different verticals. It was through this that he discovered most of his traction would come from working with magazines, a very clear picture, he adds.
The US market is one which is on the radar, but hard to sell into without a physical presence on the ground. Establishing a solid base in the UK is first on the agenda, ensuring the product is working to its best possible level before taking it to new markets.
Recent milestones:
First sales in Europe and North America
Winner of Digital Innovation Award at Publishing Expo; Finalist for SIIA 2014 Media Innovation Awards
Signed first customer for advertising
Selected for The Next Web Boost programme, designed to identify most promising startups in Europe.
Upcoming milestones:
Launch Adventure advertising package
Launch a prosumer offer, to expand addressable market and open a new customer acquisition channel
Launch the first daily title running on the platform
Add location-tethered content, via iBeacons
Recent technology:
Contentment's flagship product, Padify is a scalable turnkey solution used by publishers and brands to create cross-platform apps. Its many innovative features include: Dropbox sync for import; visual tools for responsive layout; support for continuous publishing and fine-grained in-app content purchase, and templating for unstructured content.
Products:
Padify: cloud-hosted app publishing platform
Print and digital bundling: out-of-app sales for in-app content
Adventure: cross-platform ad creation [launching July]
Contentment app: free-to-download mobile content distribution [private beta]
Alliances:
Adnostic (advertising creative)
FEB Digital (product development consultancy)
Rococo Creative (digital magazine creative)
Investors:
Andurance Ventures
Dennis Publishing
Contact details:
154-158 Shoreditch High Street, London, E1 6HU
Tel: 07595 589480
Email: michael@getcontentment.com
Website: www.getcontentment.com, www.padify.net
View all 23 companies contained within the Tech Innovators list
Related Topics