Anna Money, the business account and financial admin app for small businesses, has raised £8.5 million from tech investor Kinetik.
The platform, which launched last autumn, combines a current account, debit card and digital assistant which helps with financial admin such as sending and chasing invoices, already has more than 3,500 customers.
New features and tools launching in 2019 will help customers prepare for HMRC's Making Tax Digital initiative, analyse expenses, predict cash flow, and give users a clearer overview of their finances.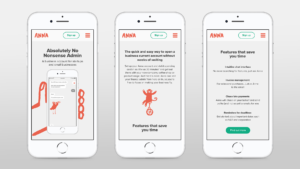 Founded in 2015, Kinetic launched with €500m backing; other investments include London-based electric van manufacturer Arrival and Roborace, the world's first racing series for driverless cars.
Anthony Julius, director of Kinetic, said: "Anna is very different from typical fintech start-ups and it's been created by brave and progressive entrepreneurs."
Eduard Panteleev, co-founder and CEO of Anna, said: "Kinetik's investment is invaluable in helping us create more useful tools and services that are vital to making the lives easier for our customers; the imaginative and visionary, dedicated and hardworking people behind all small and medium sized businesses."