Despite the uncertainty facing Northern Ireland because of Brexit turmoil, the good news is that European Union small business funding in Northern Ireland will continue until 2023.
The European Regional Development Fund (ERDF) targets investment in R&D technology and offers a mix of grant and financial instruments to support Northern Ireland SMEs.
However, because the EU budget was set in 2014 when the UK was still a member state, funds will continue to be drawn down until 2023 whether the UK exits the EU with a deal or not on March 29.
Some €113 million will be invested to increase R&D in Northern Ireland between 2020 and 2023, with the aim of doubling the number of high growth SMEs to 1,300 in 2023 and to assist 200 local companies to engage in R&D activity for the first time.
And more than €135 million will be used to increase the competitiveness of SMEs, helping them to access capital through a mix of grant and financial instruments.
Over 6,000 companies are expected to receive support and 2,800 jobs should be created, while some €60m million in private equity is expected to match public spending.
So, with EU business funding in Northern Ireland set to continue for another four years, Growth Business offers a snapshot of the NI funding landscape for entrepreneurs.
Bank loans
The four local banks (Bank of Ireland, Ulster Bank, First Trust Bank and Danske Bank) each provide small business loans, which is normally the first port of call for small businesses.
Asset Based Finance
Asset-based finance allows businesses to raise finances against the value of their assets. This form of funding involves lending money to a business against their property, plant, machinery, stock, or sometimes even their brand name.
ABF specialists operating in Northern Ireland include Simply Asset Finance, Keys Commercial Finance and Close Asset Finance.
Invest NI
Nearly all SME funding in Northern Ireland operates under the aegis of Invest NI, Northern Ireland's inward investment agency, which aims to be a one-stop-shop for businesses in Northern Ireland.
Invest NI oversees £186 million worth of debt and equity funding split between debt and equity funds, beginning with seed stage through to Series A and, ultimately, equity funding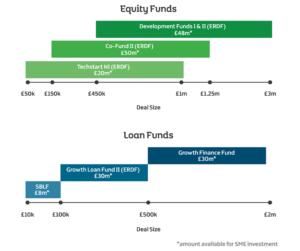 Mezzanine funding
This method of finance is also debt-based but can in some cases be converted into an equity stake if a business is performing poorly. Mezzanine finance sits behind bank debt but ahead of trade equity. It generally carries a higher rate of interest.
Administered by Invest NI (see above), the SBLF is an £8 million loan fund for NI-based individuals, private companies and social enterprises in the SME and micro enterprise size range and in the start-up or growth phases of development.
Loans are typically unsecured and range between £10,000 and £100,000 (maximum £15,000 for start-up business).
Interest rates range from 6-10 per cent and mentoring support is available where loans of less than £15,000 are taken up.
Growth Loan Fund II (ERDF)
A £30 million loan fund designed to support export-focused Northern Ireland SMEs demonstrating growth or strong growth potential.
Loans are typically between £100,000 and £500,000 over a maximum period of five years.
Eligible businesses must be in the manufacturing, engineering or tradeable services sectors with export potential.
A £30 million loan fund designed to support export-focused NI SMEs demonstrating growth or strong growth potential.
Loans are typically between £500,000 and £2 million.
The Fund is a successor to the Growth Loan Fund set up in 2012, which committed £55 million to more than 100 businesses.
Equity funding
Techstart NI is a £24 million collection of funds for start-ups and early stage businesses offering equity funding of between £50,000 and £1 million.
Techtart NI support includes a £17 million SME equity fund (investing between £50,000 to £1 million over a series of funding rounds), two university "spin-out" funds of £1.5 million each (investing between £50,000 and £300,000) – for tech businesses which have come out of university research – and a £3.6 million Proof of Concept Grant Fund offering "Concept" grants of up to £10,000 and a "Concept Plus" Grant (of up to £25,000).
The Co-Fund NI is a £50 million equity fund for early-stage start-ups that will co-invest alongside business angels or private investors. Investments are between £150,000 and £1 million at a ratio of 35:65. For example, if you have a £650,000 investment from a private investor, Co-Fund will match this with an additional £350,000.
Clarendon Fund Managers (CFM) manages the £17.7 million Co-Fund II on behalf of Invest NI.
In total, CFM manages £42.5m of regional venture capital funds in Northern Ireland. It has invested in over 60 companies since it began investing in 2001.
For companies who require larger sums of cash, there are the £48m Development Funds I & II. These are managed jointly by VC firms Crescent Capital and Kernel Capital. The range of each investment is typically between £450,000 and £1.2 million in any one round and can be up to £3 million over a series of rounds.
Development Funds are usually for established companies and they typically won't invest in early-stage ventures. If you have previously raised £150-£300,000, then the Development Funds can provide follow-on funding.
Kernel Capital
Kernel is an NI-based VC whose primary focus is on leading Series A and B rounds between £500,000-£4 million for tech companies, although it does also make early-stage investments from £200,000 to £1 million. It can invest up to £10 million in a single company. Companies seeking Series A investment should either have annual revenues in excess of £1 million or be on track to achieve that within 12 months of investment.
To date, Kernel Capital Venture Funds have raised £165 million in venture capital, helping around eight or nine portfolio companies raise £420 million in equity and debt funding.
Crescent Capital
Crescent has raised over £60 million to date from government, private and institutional investors. It invests between £450,000 and £1.2 million in equity annually, with up to £3 million invested per company over all rounds. Both majority and minority positions are considered.
To date, it has invested in 35 companies over the past 20 years.
Its investment is usually between three and seven years, with a trade sale being the most-likely exit route.
Crescent Capital III LP launched in 2013, with Invest NI committing £15 million to the fund, giving it the potential to invest over £24 million in SMEs.
Private equity
Unlike debt, private equity is invested in shares in the business. Debt demands a fixed repayment, whereas PE is dependent on the growth and profitability of the business.
Private equity funds that have a recent record of investing in Northern Irish SMEs include MML Growth Capital Partners Ireland and Broadlake Capital.
MML invests anything between €2-€12 million in each business, while Dublin-based Broadlake invests between €1-10m in established companies.
NOTICE: Looking for funding? Find the right finance for your business here