Business owners decide to sell for many reasons, from searching for something new to due diligence. In past articles, we have discussed important steps to selling your business, but in this article, we will be looking at how to sell savvy by focusing on wanting to relax on a tropical beach in retirement. Whatever the reason, the process is not simple and can take several months. That's why business advisers at BCMS recommend that sellers seek out professional advice and guidance.
Not hiring professionals to help with the process is only one thing that many business owners fail to do. From not letting go to failing to prepare, here are some things to avoid when selling your business.
Learn to let go
Business owners work tirelessly to ensure their business succeeds through the tough and the simple times. Working day and night, the business can become a vital part of their life and can be difficult to let go of, which can lead to overconfidence and a struggle letting others in.
Overconfidence can lead to business owners entering negotiations with unrealistic expectations, resulting in lost opportunities. Before entering any negotiations, owners should carry out a valuation of the business based on quantifiable criteria. This criterion can only be assessed when owners are able to be honest in sharing details and not discreet with the finer details.
Get professional advice
Some business owners put saving money before seeking professional advice. This can be tempting but is not necessarily the best thing for the process. Although an owner may have a thorough understanding of the market and their business, their lack of knowledge in the selling process may let them down.
Hiring professionals can make the process much smoother and can save time and money in the long run. A business advisor can take care of the paperwork, emails and negotiations, putting their experience to practice.
Be prepared
As a busy business owner, there may not be time to actively monitor emails, thoroughly analyse every piece of paperwork, or reply promptly to important questions. For this reason, it's important to be prepared ensuring you have thought of contingency plans and have organised things like lease issues, staffing problems and financial documentation.
By putting these key things in place selling a business can be a smoother process, not just for the owner but all stakeholders.
Get to know your buyer
Post-sale former business owners may wish to continue working within the company, this makes finding the right buyer of vital importance. There must be a positive rapport between both the seller and buyer to ensure a harmonious working environment.
Alternatively, the reason for selling may be to overcome difficulties such as entering new markets or accessing highly trained professionals. In this case, the seller must understand the purchasing company and both parts must have trust in one another to ensure they are of a mutual benefit.
The below image outlines the top reasons for acquiring an existing business: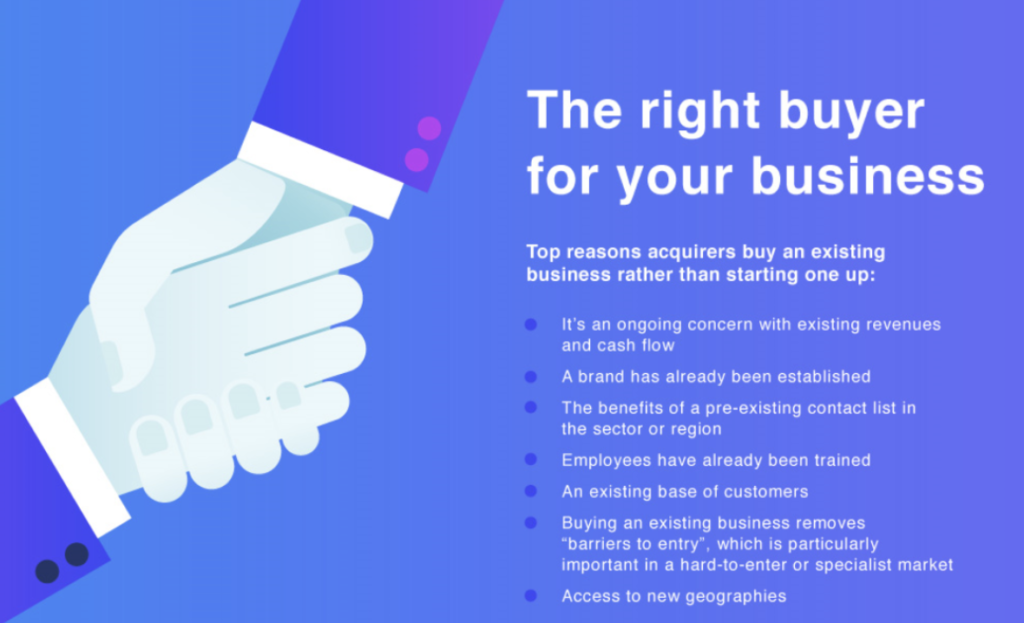 Selling a business can be an exciting time, with new prospects on the horizon. Why be kept down by long and tiresome processes? Focus should be on the future for the seller, the buyer, and the staff. That's why professionals are there to offer a helping hand and make things simpler for all involved.