720 Degrees, the world's first indoor air-quality analyst to use artificial intelligence, has announced an additional £2.5 million (€2.9 million) in funding.
Helsinki-based 720 Degrees applies machine learning to indoor environmental quality analytics. The system interprets billions of indoor air data points from hundreds of facilities each month, comparing them to outdoor quality, as well as collecting direct feedback from facility occupants.
New investors include London-based Pi Labs, the specialist property venture capital firm, which will help 720 Degrees enter the British market. To date, Pi Labs has invested in 38 companies including Airsorted, Land Insight and Plentific.
720 Degrees also received grants from the EU's Horizon 2020 programme and Business Finland having been selected onto its Young Innovative Companies programme.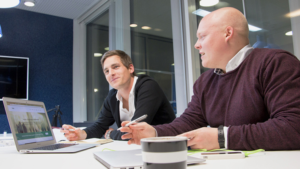 The company will use the money to expand in Europe and develop its client base in the nascent US market. It has opened an office in New York City.
In total, 720 Degrees has raised €3.54 million since 2014.
720 Degrees says that its technology enables property owners and their staff to make immediate decisions about air quality, reducing maintenance costs and keeping tenants satisfied in the long term.
720 Degrees' monitoring tool is already being used in hundreds of facilities across Europe, with clients such as CBRE, Colliers and IBM.
Rick Aller, co-founder of 720 Degrees, said: "Large property investors often consider the topic of 'indoor air quality' as only an expense item. Thanks to our solution, property investors can increase the value of their properties by significantly improving the quality of indoor air and occupant satisfaction."
Dominic Wilson, managing partner of Pi Labs, added: "720 Degrees' solution facilitates property maintenance efficiency with an intelligent design never seen before in the property innovation ecosystem. By tapping into ongoing wellness and productivity trends in tandem, Rick and his team are well poised to aggressively seize market share both at home and abroad."
Previous investors in 720 Degrees include J&T Ventures, Finnish technology fund Tekes, and angel investors from the US.