Britain produces some great entrepreneurs, inspired individuals like Nick Robertson, Mike Lynch and Brent Hoberman who have created some of the most game-changing and exciting global companies in recent years.
But there is no doubting that there is still an issue when it comes to introducing the notion of setting up your own business, and the skills needed to do this when people are at their most inquisitive stage – as children.
The UK curriculum has long fallen short when it comes to factors of education such as accounting, management skills and, arguably most important, computing and engineering schools.
Having been told by Google chairman Eric Schmidt during his MacTaggart Lecture of 2011 that education in Britain is holding back the nation's chances of success in the digital media economy, the government decided to act and introduce measures which will provide the kind of long-term support that the UK's burgeoning technology sector needs.
Speaking at the Edinburgh International Television Festival, Schmidt said, 'If I may be so impolite, your track record isn't great.
'Your IT curriculum focuses on teaching how to use software, but gives no insight into how it's made. That is just throwing away your great computing heritage.'
Put in their place by Google royalty, the government has now introduced the Year of Code – when the UK will become the first major G20 economy to put coding at the centre of the school curriculum. Just in time really, considering 2014 marks the 25th anniversary since Time Berners-Lee invented the World Wide Web.
Relevant minds
To coincide with the launch, and ahead of it being introduced when schools go back after summer in September, the Skills 2014 Summit (hosted at the RSA in London) brought together the most decorated minds in the worlds of technology and education to debate how best to 'fix one of the most disturbing challenges faced by this generation – youth unemployment and the shortage of job seekers with relevant skills.
Wired UK editor David Rowan with Digital Girl of the Year Amy Mather
With debate 'class subjects' such as entrepreneurship, coding, maths and science/engineering, personalities including Martha Lane Fox (Lastminute.com co-founder and digital pioneer), Ian Livingstone (Games Workshop co-founder) and Zach Sims (Codeacademy co-founder) gave their thoughts on the issue at hand.
Neil Hopkin, teacher at Peter Hills School in Dudley, was part of the entrepreneurship class and declared that four year-old kids are already entrepreneurial, but that schools too often kill that spirit.
Saul Singer, who along with Dan Senor co-authored Start-up Nation, put forward the argument that the current British curriculum has got in the way of learning.
'There is knowledge and skills, and there is no reason why we can't gain both of those by doing projects of all kinds,' he said.
'It doesn't always have to be business either. Our goal should be to replace the curriculum, which is just trying to transmit knowledge, with a process where everything is by projects and doing.'
It is not a case of replacing teachers, said computer science professor Shimon Schocken, rather inspiring them.
Supporting parties
Having brought together summit partners including education publishing company Pearson, venture capital investor Index Ventures and interactive coding platform Codecademy, the summit provided an insight into what the future of the British classroom might be.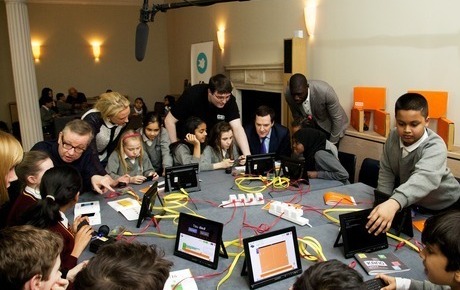 Children were encouraged to build their own computers using Kano
George Burgess', whose entrepreneurial journey began at 17 while still at school and now sees him supply learning and revision digital resources to kids, says that it's crucial that Britain as a nation encourages students in schools to be more entrepreneurial.
Burgess and his newly-launched Gojimo education technology start-up were featured in GrowthBusiness back in January when the entrepreneur secured $1 million in funding through a deal led by Index Ventures.
He tells us, 'Everyday I receive tweets from students who have great business ideas, but do not have the confidence to pursue them.
'All these students need is a big of a nudge, a bit of motivation which will encourage them to take a risk and experiment with their idea. Students need to learn that it's ok if their idea fails, in fact it can be beneficial if they look at why they failed and learn from it.'
Burgess was part of the entrepreneurship class of the day, when the notion of failure in schools, and how it isn't something to be frowned upon, was debated at length.
Singer said, 'The way to learn entrepreneurship is to let kids solve problems. It's the ability to see problems and taking the risk to solve them.
'Entrepreneurship is not about ideas, it's about drive, innovation and willingness to take risks.'
In a piece written for the Financial Times in February 2013, engineering and entrepreneurship professor Peter Adriaens and Tim Faley, managing director of the Samuel Zell & Robert H. Lurie Institute for Entrepreneurial Studies at the University of Michigan, argued that schools think too narrowly when it comes to the concept of entrepreneurship. Pointing to the fact that the number of US schools offering courses in entrepreneurship has risen from 100 in 1977 to more than 2,000 in present day, the two still declared that there is too much emphasis on the idea stage – rather than identifying it as en exercise in delivery. 'The focus should be on the fishing, not the fish,' they said.
For 21 year-old business builder Burgess, the upsight is clear – even if students don't go on to create their own company.
'These entrepreneurial skills can benefit students even if they have no interest in starting a business in later life,' he says.
'Arming students with an entrepreneurial thought process gives them the confidence they need to pursue ideas, to learn from mistakes, to take calculated risks and to approach problems in a creative but practical manner. These skills are crucial for today's students if they are to participate in a modern workforce.'
Formalising entrepreneurship
Having debated how various subjects will be influenced by the implementation of technology, the day was concluded by the formal announcing of the Year of Code by chancellor George Osborne, education secretary Michael Gove and Lastminute.com founder and former UK digital champion Martha Lane Fox.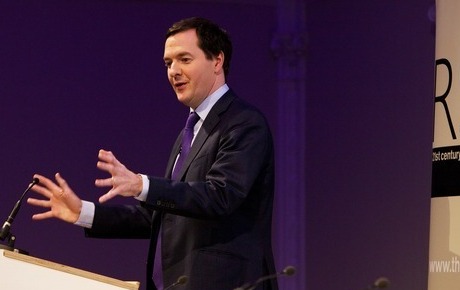 Chancellor George Osborne kicked off the Year of Code at the Skills 2014 Summit
Having been introduced by former government advisor and Tech City founder Rohan Silva, Osborne said that it is the right thing to support those with entrepreneurial ideas in this new economy.
Referring to creating a generous tax system and early-stage loans for budding entrepreneurs, Obsorne added, 'Ultimately, as a country, we will not be part of this technology revolution if we are just the users of technology, rather than the creators of technology.
'We thought it was important to get computers into schools, and then we thought it was important to have computer suites, and then sat kids down and taught them how to use Word and Excel – and that is incredibly important. But I think we forgot to teach them how these programmes were put together.
'And in the last few years there has been a bit of revolution going, driven by those like Codeacademy and Raspberry Pi.
'Ultimately, I think government does have a responsibility to make sure every kid at least has the chance to understand more about the world around them.'
After spending time with children at the conference learning the art of coding and building their own hardware, Osborne declared that introducing coding to the curriculum is one of the most important things the government has done for the future of the UK economy.
Watch the full Year of Code announcement
Related Topics