You must have all heard it before. If you watched TV in the UK in the last few years you would have probably caught yourself whistling the tune quietly to yourself or rolling your eyes as you overhear a colleague hum the jingle. One of the best ways in the late 2000's to catch an audience's attention was to create a jaunty, memorable and borderline annoying tune that will forever be associated with your business.
A jingle that you are almost guaranteed to remember is for the greetings card e-commerce platform, MoonPig. You have Iain Martin to thank for that.
Previously the managing director of MoonPig for a just under ten years, Martin knows all about capturing the customers attention and is looking to flex his advertising muscles in a different sector: the baby gifts market. Recently appointed as the chairman of My 1st Years, Martin wants to form a new path, with founders Daniel Price and Jonny Sitton, to create an international, personalised baby-gift business.
Martin found his first passion with tech, something that he knew could really drive businesses forward. "I am a consumer guy and a retailer, first and foremost. I started my retail experience with Marks and Spencers in the marketing department and I always had an interest in tech. Back then I was looking at new tech for M&S, but I left when mobile devices started to hook up to the internet.
"I wrote to Nick Jenkins because I had seen he had started a business called MoonPig. I was in the card sector and I was interested in getting into the e-commerce industry. It made sense for me to reach out to Nick and find out a bit more about it.
"MoonPig was just coming to the point where it was becoming profitable; it had sales of about £1.8 mil and a couple of hundred thousands in terms of profit. I joined Nick and the plan was always to spend time with him and then take over as MD while he stepped back as chairman so he could go and do other things.
"I spent the first year as commercial director looking after digital marketing and the product side of the business and Nick retained tech and finance for the first 12 months. During that time I did the TV advert, which we launched in Nov 2006 including the now famous jingle, which I guess I do have to put my hands up for.
It was a marmite jingle but definitely cut through! We put that ad together scientifically. It looks cheesy now, but it was constructed with the minimum amount of messaging and the maximum amount of impact and we made a tv ad for £30k and we spent £8m marketing it over the next few years!"
After officially being made managing director in 2007, Martin was all about scale and growth, reaching more than 10 million customers and transforming the brand into a household name in the process.
"That was a tremendously exciting part of my career, I am so grateful and feel so lucky to be part of that process. Through all sorts of challenges, both in terms of marketing and how to scale, but also how do you measure what you are spending on your marketing, against the impact you are having. We were pretty data savvy and developed lots of methods for measurement and attribution. We built processes that are robust enough to withstand that scaling within the business, but it was always pretty difficult."
Martin says he has a complete and utter obsession for the customer and what they want. Having recently become a father and working for so long in the e-commerce and gift industry, his interest in the sector and his determination to reach that audience has only grown.
The next challenge with My 1st Years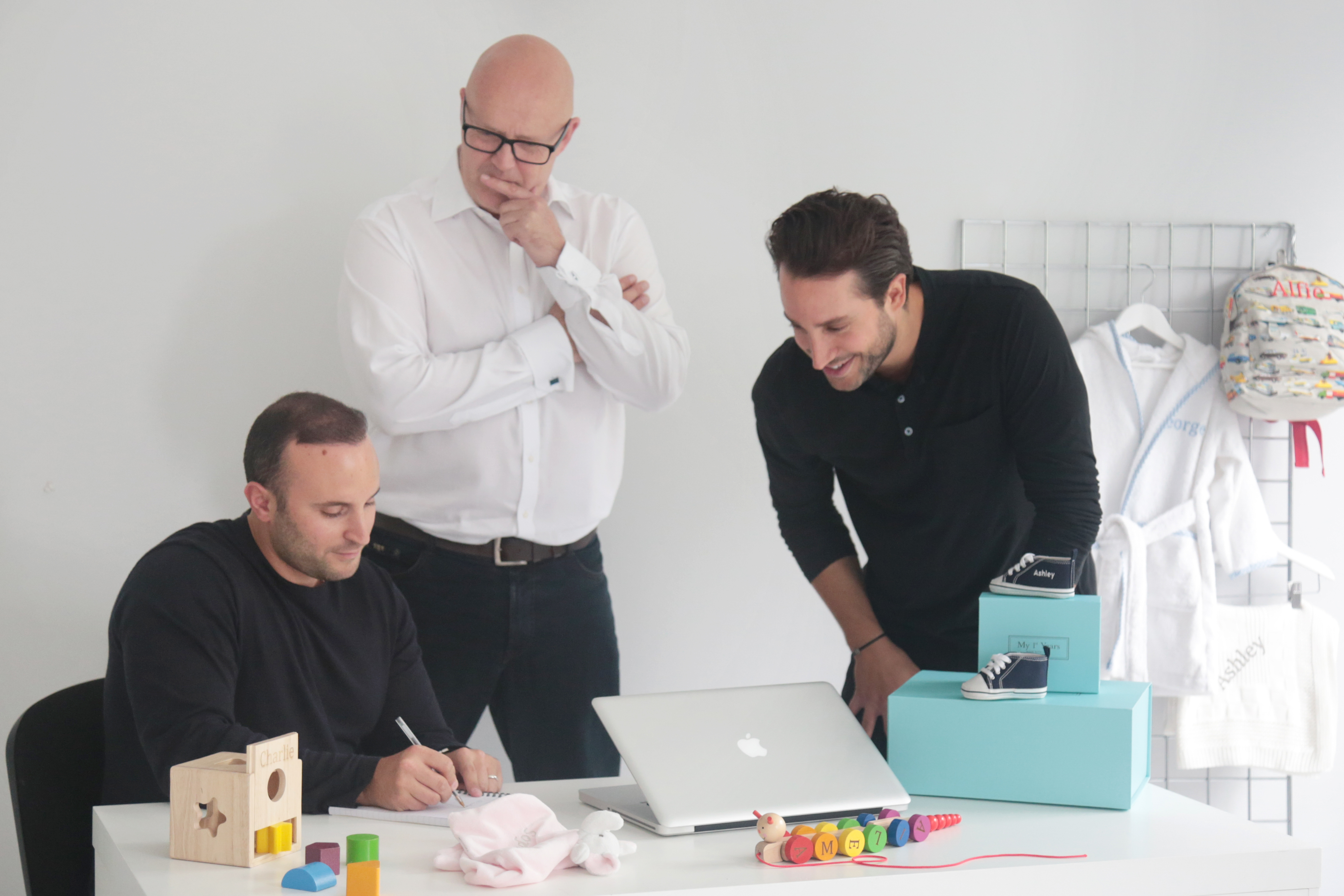 Armed with over a decade of business growth and experience, Martin wants to carve a new path and help grow something new in My 1st Years. Founded back in 2010 by two guys who knew each other since they were 4 years old, John and Dan went to uni together, gaining an interest in the baby market. They then developed, early on, a personalised booty for some friends of theirs which essentially started the business; on a personalised trainer.
Working alongside larger retailers such as NotOnTheHighStreet, John Lewis, Selfridges, Harrods and Next, ambition is no barrier for these entrepreneurs..
Having just closed a £5m series A funding round with Beringea, Martin joins a company looking to grow rapidly.
"I set up a meeting thinking they would want some advice. I went and a 15 minute meeting turned into a five hour conversation! As we were talking, I can almost see myself starting at MoonPig when I had eight people in a room, a very small but exciting stage of the business and in the same phase, and I understood all their pain points and I could relate based on my own experience.
"I love their product and they have a smashing culture. We had a great culture at MoonPig, which essentially sells jokes for a living, so it needs to be a friendly and smiley place; it was very collaborative and open. Although it may be a different business, My 1st Years also has a lovely culture. Walking into the factory, you can really sense that the people working with the product really care about it. There is an atmosphere in the factory as they put these personalised products into beautiful boxes for the babies and toddlers; it just has a wonderful feel. From top-to-bottom it has huge care for its customers."
While MoonPig has obviously shaped his business brain, Martin is keen to create something new and develop a product that is within its own space.
"When I look at it, it's not just about personalisation, it is about beautiful products for the first years of your child's life and it has huge potential as a brand and if it can position itself correctly, which it is on its way to achieving, and if we can really build a marketing base and get a relationship with customers then I would say it has huge potential. I wouldn't compare it to MoonPig because it is just totally different in so many ways."
Technology has inevitably played a different role in the growth of My 1st Years, but this is only a new challenge to overcome for Martin, rather than a hinderance.
"With Dan, Jonny and My 1st Years, a lot of the early marketing success has come from social media. Some of that is understanding the tools and tech behind marketing, some of it is understanding influencers. When the guys showed me the picture of Prince George wearing a My 1st Years robe it was like 'Hang on, we have Prince George wearing one of your robes, that is pretty special.' Not only was he wearing the robe but he was shaking hands with President Obama! What more do you want!?"