British language training app, Memrise, took its first steps in a gutted factory warehouse, the start-up's first official headquarters. The start-up as it is today is nothing like it was when it first launched. Founded by former memory grandmaster Ed Cooke and Ben Whately, the app's first iteration was a memory training tool. "Ed and I met studying psychology in Oxford, specialising in memory. Ed got really serious about memory and setting records in memorising binary, and so on," co-founder Ben Whately tells GrowthBusiness. A subsequent trip to China opened Whately up to the possibility of rapidly picking up languages using memory techniques. "It's fundamentally human to compulsively create and learn languages. Growing up, I always thought I was bad at learning languages. I remember thinking 'am I not human?' Well, I went to China to learn Chinese, and I did. Turns out, it's easy if you don't have teachers to confuse things."
When the app launched, it was initially for learning anything. "That pottered along for three to four years. But we were being hamstrung by being too general. Since languages are where the initial idea came from, we decided to specifically form our audience. Two years ago, we decided to enter a frankly competitive learning space," Whately explains.
"Our hypothesis is no one is really doing it effectively, and no one has the understanding of how people learn. The language learning market still 95 per cent offline, but not because the users are offline. We believed that if we launch something better, it will grow."
It is that optimism coupled with strategic app updates that helped Memrise rocket to the top for language learning. "In two years since the launch, we didn't do any marketing except for a $400 ad in 2010. In a month, we had 1 million sign ups for the free service," Whately says. "It's simple. We had a problem to solve: how to help people learn what they perceive to be difficult languages as efficiently as possible. This is the founding aim of the company. We work out how to give everyone the power of learning like a genius."
Whether it's through memory techniques or pneumonic devices, Whately believes that language learning is based on forming a habit; one that is hard to form yourself, but one that can benefit from a boost in technology.
Memrise recently won 'Best App' at the 2017 Google Play Awards, beating out top apps like CityMapper and GoPro's video editing app, Quik. According to Whately, it's partly because of the language learning app's popularity and partly because of its technology-first approach and evolution. "Memrise uses real world scenarios and humour to get through to users, so it's more about enjoying the process and learning stuff you can actually use if you were having a conversation. For us, it's about improving the efficiency of learning. This is true across edtech. However, improving efficiency of learning technology isn't the core aim of a lot of these businesses. The focus for most of them is to make money, which isn't putting the users first," Whately says.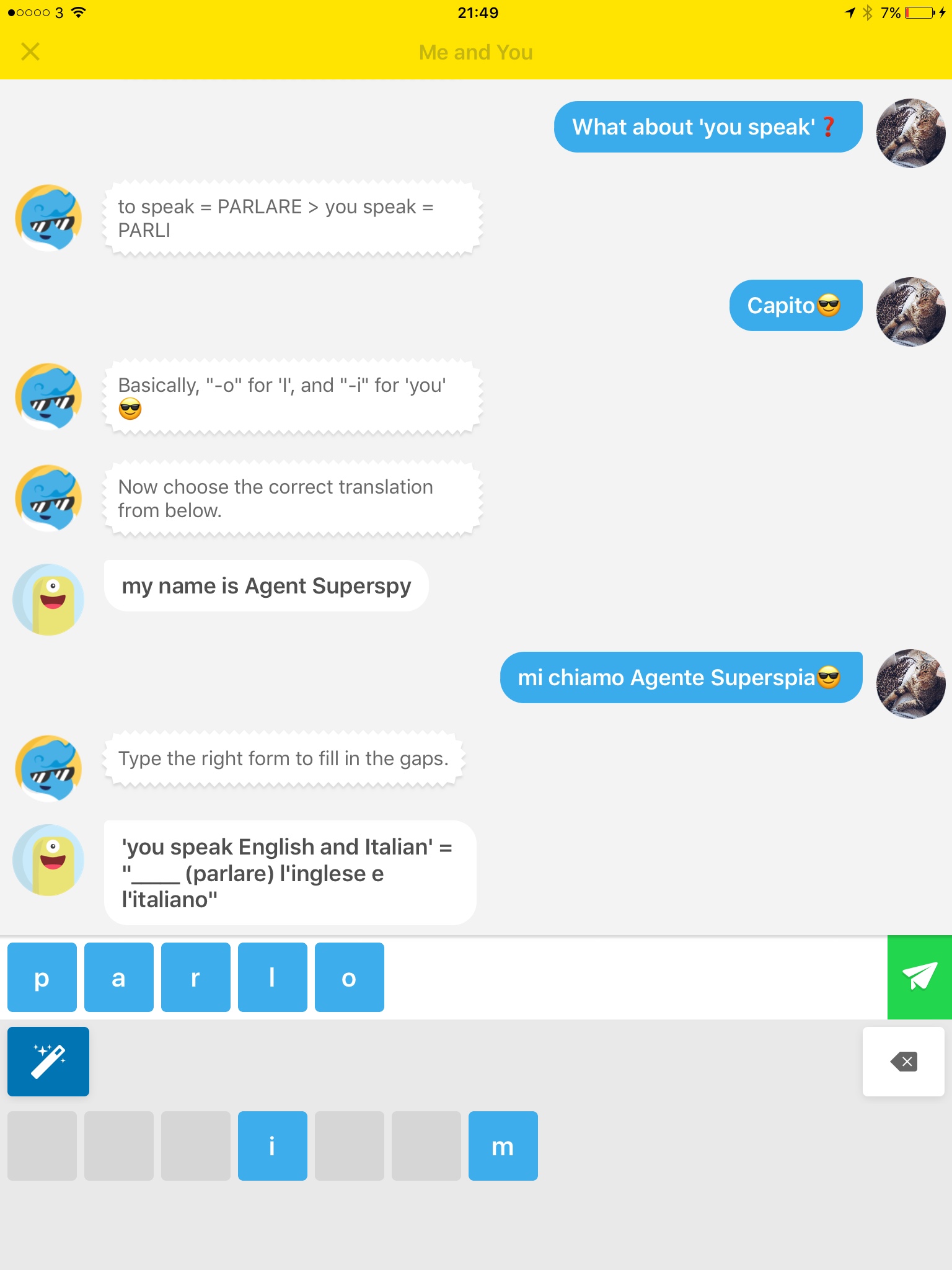 Memrise now has over 100,000 paying subscribers around the world, who cumulatively use the platform to learn an average of two million new words every day. The company, which employs over 50 people in its London HQ, recently turned profitable. The team includes world-class language experts, polyglots and developers working together to make the language learning process as intuitive as possible through technology.
"The traditional approach to teaching languages always put grammar first. That's the problem. You get a vague sense you're stupid, and you're left with nothing you can actually use. The lexical approach instead lets you learn grammar from language. Grammabot can do that."
Grammabot is Memrise's AI-powered chatbot technology that explains important grammar points in a conversational style, as users use the language. Grammabot takes mobile learning beyond plain text or video explanations, mimicking the qualities of in-person teachers, Whately explains. "Basically, Grammabot asks you questions after a lesson to make sure you've understood it correctly, and then explains the lessonbased on how you're doing. It's the most intuitive way to learn languages."
"Culturally, there's a concept that people allow themselves to believe; that they are not good at languages. It's not true. The academic stance on how to learn doesn't work, but people do it anyway.
The natural approach is still the most effective way to learn languages. When Latin was a spoken language, grammar was learned in context of the language. When Latin stopped being a spoken language, people were learning Latin from grammar books. The ability to communicate and studying grammar are quite uncorrelated."
Based on this philosophy, the Memrise way has won over 15 million users on its free mobile platform over the past two years. Its retention rates are high, with over 45 per cent of new paid subscribers still learning eight weeks later.
"This resonates with Google, seeing the reactions from the users. For data-driven organisations, users are the actual progress. We're doing that by breaking the myth and creating experiences that show them they can learn languages with ease," Whately says. "There are 1.5 billion people learning languages in the world today, which will increase to 2.5 billion by 2020. Of those, 65 per cent now have a smart phone, which will be 85 per cent in three years. Language learning will need to be as adaptable as everything else."