Analysts often dub 2017 as the year of the chatbot, with so many customer-facing businesses investing in artificial intelligence as a catch-all customer service tool. The popularity of Amazon Echo and Google Home attest the world's obsession with AI technology, but specifically in terms of its applications in healthcare, the majority of chatbots and AI initiatives are aimed at young and healthy smartphone users. These chatbots often only answer a limited amount of questions, ignoring those who attend A&E most frequently and use the most healthcare resources – the elderly. This is largely because those who have the greatest health needs are also the least likely to use a smartphone.
A new AI care bot, 'Martha', aims to challenge this assumption.
Tech-enabled homecare platform Cera and Bloomsbury AI have launched this elder care focussed AI assistant to address patients' care enquiries in real-time, enhance the knowledge and capabilities of care workers, and later predict deteriorations in health, through multiple language interfaces including text messaging.
Aimed at raising the bar in social care, the launch of Martha comes as analysts forecast that chatbots could save businesses $8 billion a year by 2022, with healthcare among the industries gaining the biggest cost savings.
Martha will initially be used by Cera's patients and their family members via its website and live chat to advise on specific care needs and respond to questions like "My father has Dementia. What type of care package would you recommend?"
Very soon, Martha will also be capable of answering questions that a carer may have based on a patient's care records, and provide crucial advice if something causes her concern. For example, if a care worker notes that "Mrs. Taylor seems quite feverish," Martha might respond with "Mrs. Taylor had a cough recently, you may want to check her temperature and take note of her other symptoms," since she's read the patient's case notes and knows their background.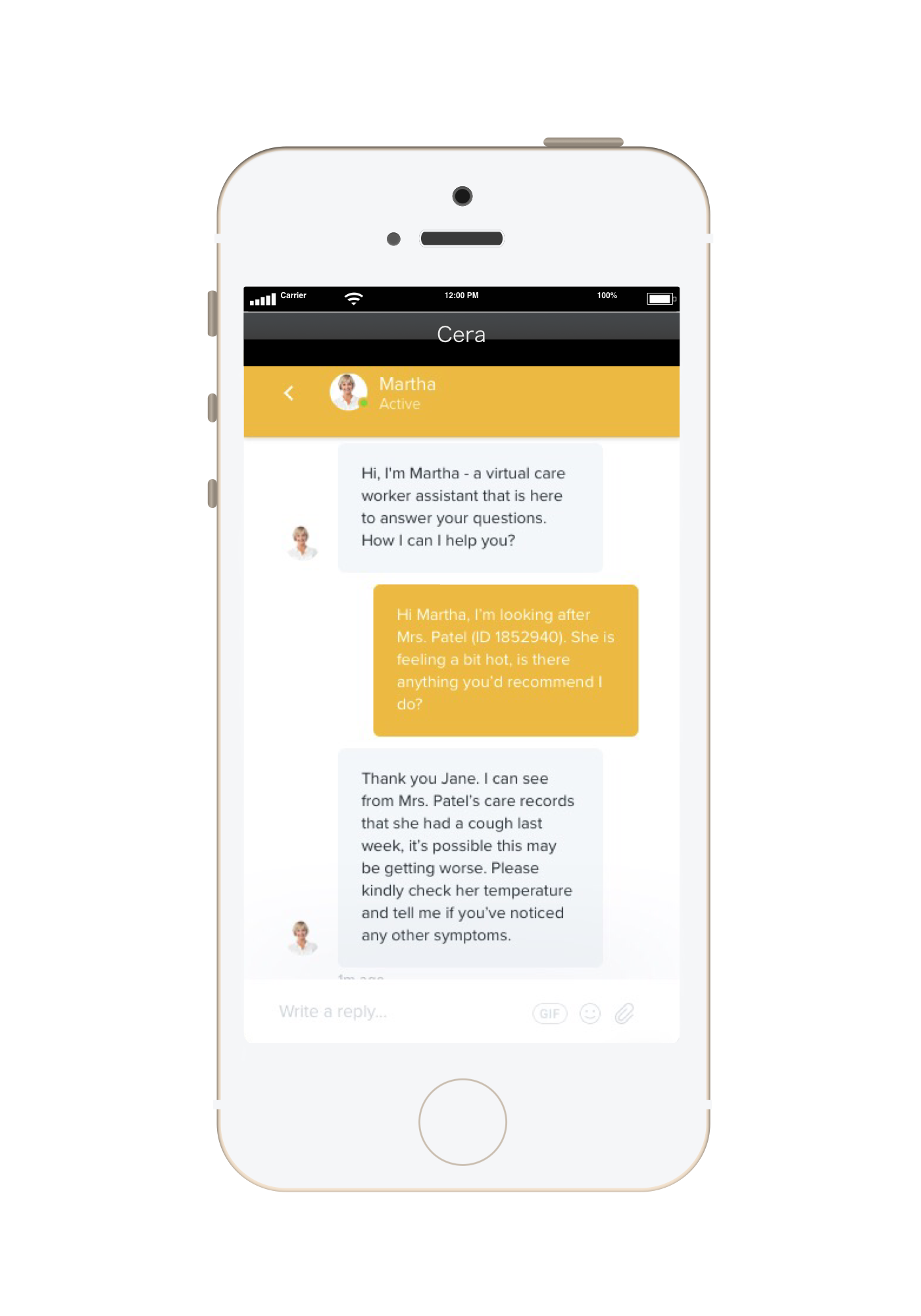 Having delivered tens of thousands of care hours, accruing millions of data points, Cera is in a unique position to identify healthcare trends among those receiving homecare, which otherwise would not have been possible due to the largely offline nature of the sector. Using a combination of deep learning, machine reading and data augmentation, Martha will be able to answer increasingly complex questions about a patient's care and health needs, with the ultimate goal of reducing avoidable trips to A&E, by catching acute conditions early on.
"We've begun to witness how AI is transforming healthcare, both in the NHS and internationally. However, these capabilities have yet to venture into the social care space. With the launch of Martha that's set to change, allowing the elderly and their loved ones to benefit from cutting-edge technology in a way that's life-enhancing, while easing demands on busy A&E departments," Dr Ben Maruthappu, Cera's co-founder and president, said.
Cera launched in November 2016, as a healthtech start-up that uses technology to match those needing care with a highly-experienced carer. The service, which is regulated by the Care Quality Commission (CQC), is the only platform of its kind to get a carer to your door or hospital bed in under 24 hours. Cera's platform also enables carers to update digital patient records in real-time, which can then be accessed by approved healthcare professionals and the patient's family. In April 2017, Cera announced it had partnered with 10 NHS hospitals and CCGs.
Martha is its latest tech offering, developed in partnership with Bloomsbury AI.
"Although younger generations are able to deal with technology anywhere at any time, to provide appropriate and much needed tech-enabled services to the elderly we needed to adapt AI. What we have developed is different to the standard chatbot, which can only answer a small number of pre-defined questions. Our algorithms learn to answer more and more questions over time, and our system integrates seamlessly with Cera's existing communication channels," Guillaume Bouchard, co-founder and CEO at Bloomsbury AI, explained. "This happens by reading Cera's comprehensive documents, which are continuously updated as they grow their services and by asking questions to Cera's experts when the answer is not obvious. With Cera's users in mind we have worked to ensure that Martha responds in simple and clear language so that informed decisions can safely be made."
Martha, unlike existing healthtech AI chatbots, focuses on those with multiple health needs who could benefit the greatest from AI, with the potential to deliver the greatest savings to the health and care system, if acute conditions such as chest infections and high blood pressure are caught early and acted upon.
Martha is not simply a chatbot, but is based on the latest combination of deep learning, machine reading and data augmentation – backed by the spinout from UCL's Machine Reading Research group. This means the technology that powers the bot is continuously updating itself, and learning about Cera's patients from the information entered by carers. Martha can answer increasingly complex questions about a patient's care, and knows when to ask one of Cera's experts when the answer isn't clear – combining both data-driven and human-centred approaches.
See also: Digital care start-up Cera strikes deal with Uber and NHS