Despite being one of the fastest-growing technology companies in Europe, Tradeshift's new $75 million (£45 million) venture capital fundraising is bound to raise a few eyebrows.
Launched in 2010, the business helps companies connect and do business whether they are micro firms or large corporates. Its software-as-a-service offering removes the need for the thousands of pieces of paper which arise due to correspondence with suppliers, accounting or invoicing. Packaging it up as a kind of social media platform, CEO Christian Lanng says that the service is completely different from accounting-type systems of the past.
'Way too much business software is not trying to solve the real problem,' he says. 'Accounting software now is making sure you don't go to prison if you do your accounts wrong.
'But businesses really want to hire more and get more customers, which is what Tradeshift allows them to do.'
Established in 2009 and launched in 2010, Tradeshift now has bases in Copenhagen, London, San Francisco and, through its latest site, Suzhou, China.
Growth has been tremendous, Lanng says – and a welcome surprise for the team. 'When we launched three years ago in three markets [Denmark, Sweden and the UK] we thought it would be a fairly controlled launch.'
However, the different nations that Tradeshift customers were interacting with meant that take up was quick and the business now connects 500,000 businesses.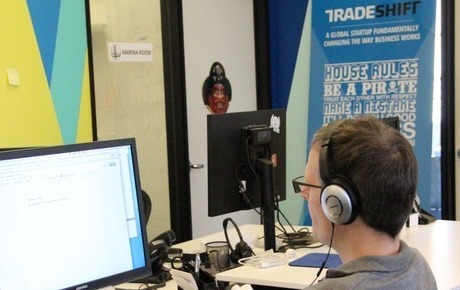 Investment has so far been spent on building out the product and hiring staff
Investor backing
To fund the next stage of its growth, Tradeshift has closed its biggest funding round and turned to a new investor to support expansion into a new region.
Its new $75 million fundraising, one of the biggest Europe has seen in the last few years, has brought in Singapore's Scentan Ventures. It is this firm, Lanng explains, which will be pivotal in Tradeshift's latest Asian move – Japan.
The trend of teaming up with a backer who knows the region is something Tradeshift has always employed. It's first two fundraisings, in 2011, were led by experienced British software-as-a-service venture capital firm Notion Capital – set up by many of the founding team at MessageLabs. When Tradeshift decided that US expansion was on the cards it closed a $15 million round led by Intuit, one of the 'strongest partners' when it comes to SaaS in America, Lanng says.
And what does a young start-up do when it suddenly has $75 million dropped into the company account? Well, a variety of things to help stimulate global growth.
'We have a new product office in China which is building a lot of product features for the region,' Lanng reveals.
'We're going to be opening a new office in Tokyo focusing on the Japanese market as we've got some good traction in Asia.'
Scentan has a strong local presence when it comes to building a business in Asia and Japan, and will be putting the firm's managing director, Noriaki Okubu, onto the Tradeshift board.
Building a global company, something which requires a large swath of venture capital cash, is something which has been ingrained into the Tradeshift ethos since the beginning.
'Starting in Denmark, if you don't build a global business you won't have a particularly large one.
'We have 150 staff from 31 countries, so Tradeshift is really multicultural with a mix of cultures – not just the single or few that you find at some tech companies.'
It is this trait that Lanng believes has helped a lot of with global growth and building a worldwide mindset.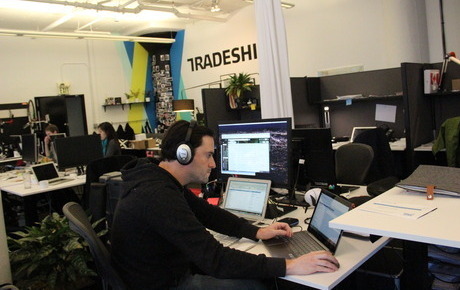 Tradeshift has brought together staff from all over the world
When it comes to advice for entrepreneurs looking to go big when it comes to raising venture capital, Lanng has some simple advice – be yourself. Not being afraid to call yourself a start-up and putting innovation at the heart of what is done is pivotal, he adds.
And for a company which has just raised $75 million to go with the $37 million it had already banked, and counts the likes of DHL, the NHS and the French government as customers, this simple approach is well worth heeding.
More from Tradeshift's Christian Lanng: