UK entrepreneurs have made £108.4 billion from the sale of their business or stakes in their business over the last five years, says law firm Boodle Hatfield.
These business sales have generated over £12.2 billion in capital gains tax for the government in the same period, at an average of £2.4 billion a year.
Boodle Hatfield says that the huge amount of value and tax generated by these sales reflects the increasing importance of the "owner managed" and private company segment of the UK economy.
The growth in the UK's start-up economy, led by the technology sector, is responsible for a large proportion of this wealth creation.
The number of new businesses registered in the UK hit a record high of 660,000 last year, with London representing nearly one third of this (216,000).
London has become one of the leading technology hubs in Europe, with a high concentration of businesses in areas such as "Silicon Roundabout" encouraging further innovation.
The average amount of capital gains made from each business sale by entrepreneurs, covered by the data, has doubled over the last five years to £628,200, up from £360,800 in 2012/13.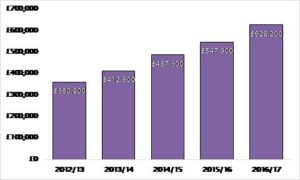 Rahul Thakrar, partner at Boodle Hatfield, said: "The huge sums made by entrepreneurs through business sales shows how the UK's start-up economy is still firing on all cylinders."
"It's so important entrepreneurialism is encouraged and there are fears that changes to tax relief on business sales could kill the golden goose."
EU buyers increase investment
Meanwhile, EU buyers have increased their investment in UK assets by nearly 50 per cent in the past year, according to the Daily Telegraph.
Buyers in the EU have bought 553 UK assets through mergers and acquisitions and private placements in the past year, according to S&P Capital IQ data interpreted by the Telegraph.
Purchases of companies, property and stakes in fast-growing firms totalled $31.1 billion over the past 12 months.
That is up from $21.2 billion over 497 purchases in the previous 12 months, and $13.6 billion on 454 transactions in the same period of 2016-17, the year encompassing the Brexit vote.
Spencer Baylin of law firm Clifford Chance told the Telegraph that the cheaper pound made certain UK assets more attractive.
"There is an enormous amount of uninvested capital in the private equity world. Generally, if they don't spend the money they lose it and the fees associated with it. They have been very successful at raising money, so the pressure is on to deploy it," said Rob Donaldson of accountants RSM.