Smp: A World Of Opportunity For Gen Z? Attracting New Generation Talent
The opportunity for small and medium sized practices to grow in today's business environment is unprecedented. Adoption of digital accounting tools, changing client expectations and business models are deeply transforming all aspects of SMPs. With the flexibility and creativity to match the velocity of change and adapt to the rapidly evolving demands of the client, SMPs have the potential to drive the progress and transformation of the industry as a whole.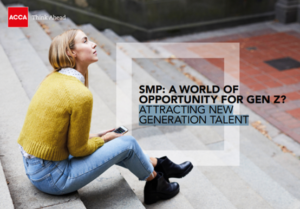 But are they adopting the right talent attraction strategies when it comes to Gen Z?
Download ACCA's free tool to learn more about how to attract new generation talent.
SMP: A world of opportunity for Gen Z? Attracting new generation talent.