EXCLUSIVE: The Co-operative Bank plans to expand its Co-op small business banking offer over the next year following its £15m grant funded by RBS.
Last month, the Co-op announced that increased its lending to small business customers for the first time in six years as it seeks to cast off its past problems.
The bank is matching the £15m Banking Competition Remedies grant with £17m of its own money.
See also: Nationwide wins £50m prize to help boost small business banking
The bank is the UK's seventh biggest provider of loans to small businesses but put the brakes on lending in 2013 after discovering a £1.5bn hole in its finances that threatened its survival.
Donald Kerr, managing director of SME banking, told Small Business that the bank will:
Put a small-business focused relationship manager back into branches
Introduce same-day business bank account opening next year
Modernise its online banking platform, making it much easier for SMEs to integrate online accounting packages
Launch a mobile app for business customers next year
Introduce its own-brand accountancy package in partnership with a Manchester-based fintech
Offer a three-month cash flow facility based on transaction history
This is in addition to offering 30 months' free banking to new customers in a bid to double its SME market share.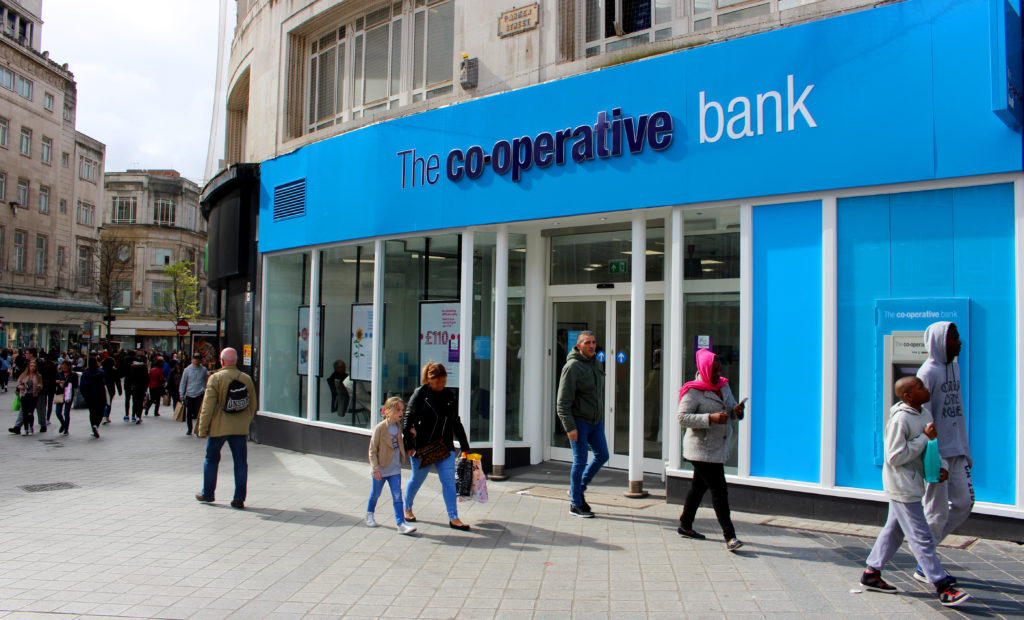 Social conscience
The Co-op sees itself as more progressive than other banks, with a social conscience which sits well with small businesses.
According to the Co-op's own research, 22pc of of all UK SMEs were founded with a clear, social purpose in mind.
Seventy per cent of small businesses see themselves as "purpose-driven" businesses.
Kerr said: "We will give small businesses the best-in-class digital experience they want, supported by people who hopefully share their purpose and vision. If you genuinely care about ethical supply chains, climate change, diversity and inclusion in the workplace, come to a bank that shares your values. It's our ethical policy that makes us stand out."
Kerr, who joined Co-op seven months ago from CBYG/Virgin Money where he was head of small business banking, said he was attracted to the bank because of the opportunity to re-energise the brand, so that small business customers do not have to choose between ethical values and modernity.
Kerr said: "The attraction of the Co-op Bank is that it's a sleeping under-invested franchise – and we all know the issues Co-operative Bank has had — with a core and loyal customer base and a differentiation about how we're set up with values and ethics.
"There was an opportunity to make the Co-op stand out from the rest of the banking market. Most business customers agree with what we stand for, such our increased focus on climate change, fair supply changes, giving back to the community. If anything, these things are increasingly important to SMEs, not diminishing."
Kerr said that small businesses want quick lending decisions and that is why it is important to put relationship managers back into the field, giving them autonomy to make quick lending decisions.
"We're putting bank managers back into branches. Someone who understands SMEs. we genuinely believe that businesses want a multi-channel approach. They're very happy to be online but they also want someone they can see."
Revamping its business banking online platform and linking it to available digital accountancy packages will enable Co-op to offer three month's cash flow in advance, based on invoicing and payment history.
"The thing that sinks most small businesses isn't lack of profitability, it's cash flow," said Kerr. "The technology means we can model cash-flow needs and arrange a facility accordingly. We will take your transactional history through your account and then supplement that with information from your accountancy package. By enhanced data analysis and credit analysis, we should be able to pre-authorise the overdraft in advance."
Small business owners often complain that it can take months to get a loan approved from one of the high-street banks and, if they're turned down, it's often with no explanation.
Kerr acknowledges the pain point and said that Co-op plans to give customers a lending decision in a matter of days, not weeks. Small businesses that need to borrow less than £10,000 will have an answer that same day, with the bank being fully transparent about its reasons for approving, amending or rejecting the loan request.
No-deal preparations
What advice would Kerr have for Co-op bank customers bracing themselves for a no-deal Brexit, given current turbulence?
"I would advise them to fully understand their supply chain. Not just who your immediate suppliers are but who supplies them. And speak to your professional advisers – accountant, broker – as soon as possible because it's going to be much easier for us to speak to people who've thought through the risks and can mitigate them."
Further reading
Barclays business CEO worries SME lending bubble could burst